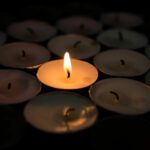 Losing someone can be difficult. I offer grief counseling to people who need support
The path of healing from a loss differs from person to person. Sometimes the support from loved ones is enough. Other times it is helpful to talk to a therapist, especially if the loss was complicated due to sudden death, or an extended illness.
I use various techniques, including mindfullness, and CBT, to support you through this tough time.
"What we have once enjoyed deeply we can never lose. All that we love deeply becomes a part of us." –Helen Keller